Joined

Jun 16, 2004
Messages

50,381
1. Catherine of Aragon
The Evita of the Tudor era, Spanish Catherine was very popular with the English public right up until her death in 1536. Poor old Cathy really got the viewers on board when she was treated like absolute crap by Henry after he threw away the religious rulebook and divorced her to marry his new piece,
the beautiful Jan Brady
Ms Anne Boleyn. Messages from the public like 'stay strong babe, he's not worth it' were written on parchment and thrown through her castle window right up until the end. Henry got away with it because Catherine had been previously married to Henry's brother Arthur, and Henry decided that after 21 years of marriage and some selective interpretation of the Bible that this now did not sit well with him

Catherine never accepted Henry's divorce and called herself the queen until she died of cancer and a broken heart in 1536. The legendary Miss Catherine Spears is remembered for her dedication to women's education and commitment to helping the poor and is very worthy of your vote.
2. Anne Boleyn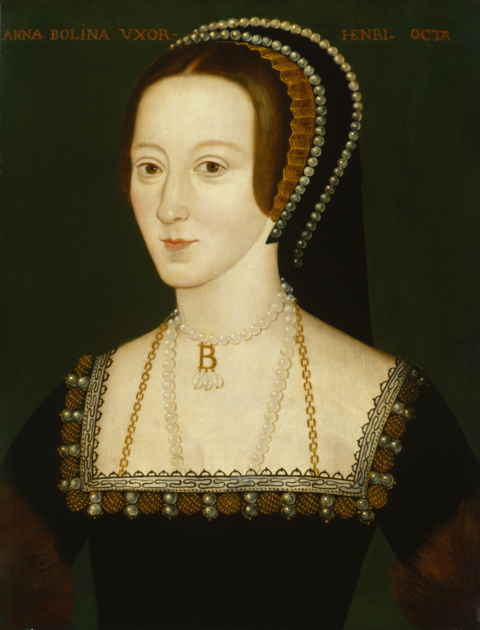 This trim little piece from Kent was by all accounts a very intelligent and strong-willed lady, who often quarrelled with Henry and could easily stand up for herself. During her three years as Queen, Anne entered into a feud with Catherine of Aragon's daughter Mary, who by now was a teenager and totes couldn't stand Anne for wrecking her family home. Mary had previously had a very happy childhood was super close to her father, but when Anne came on the scene Mary was demoted from her status as princess, and made to serve the new princess, Anne's daughter and future icon, Elizabeth. At one point Anne is said to have tried the 'nicey-nicey' approach to get Mary on side, but Mary told her to get fucked and so Anne fired all of Mary's chambermaids, one of whom killed themselves from the sheer horror of no longer getting to be Mary's chambermaid. Ryan Murphy I know you're reading and yes I do think this would make a great six-part series with Sarah Paulson playing both Mary and Anne Boleyn.
Anne is by all accounts a questionable diva, in that she was apparently thrilled when Catherine of Aragon carked it and certainly could have been the bigger person when Mary was upset, but she also was a champion of women's rights and educating women to be able to read the newly translated King James Bible. This led to her clashing with one of Henry's best mates Thomas Cromwell, who was much more interested in selling off the gold from the dissolved monasteries and making a quick buck than listening to Anne's idea of sharing the wealth around. Cromwell wanted rid of this little Amelie and so started really slagging her off to Henry, who by now was also getting sick of Anne and her inability to give birth to a boy. Cromwell led the accusations of her adultery (which were probably untrue) and ultimately Anne was executed. Nobody thought that this would really happen but on the 19th May 1536, Henry blocked and deleted her number, and for a good while everybody in the group chat was shook to the core.
I don't want to end on a bad note for poor Anne, so let me tell you two happier things: 1) When her daughter Liz became queen the reputation of her mother was really restored and she was martyred and 2) Thomas Cromwell ended up getting executed by Henry himself in 1540. oops, bye monster!
Last edited: